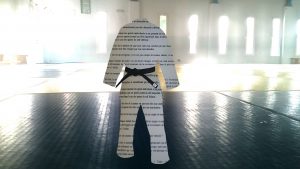 INTRODUCTION
Nowadays, Sport is so diversified. It includes so many varieties like individual and collective ones. Each one of these varieties has specific and common goals and properties.
After a deep research in individual sports goals, we found that developing the spirit is in a close relation with the practice of this kind of sports and specially martial arts.
This development can increase or decrease the level of the spirit.
And from the universe rules, vacuum have to be filled with something. So spirit is like an empty pot, if you don't fill it with good things it will be filled with bad ones, so in each moment of our lifes, we sculpt images and memories that will be developed in the same times as we develop our spirit, ( devenue – queen – ملكة   ), and it will remains forever with us like true friend
So where are we from this relationship (compagnie éternelle ? )
Monotheism is a practical way to develop and educate the spirit from not only a physical approach as the other sports do but also from a spiritual way focusing on the soul.
Spirit is born from the fusion between the soul and the body
Soul + Body  =    Spirit birth
S  +  B   =    S B
  Chebil   Ramzi
© 2016 monotheisme. All Rights Reserved.